DOOM!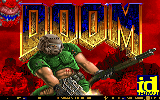 Author:
ID Software
Source:
Original Port: sdldoom-1.10.tar.gz
LxDoom Port: lxdoom-1.4.1.tar.gz

Shareware Data:
doom1.wad.gz or doom1.wad.zip
Requires:
SDL 1.0 (LxDoom port requires mixer for music)
Description:
Port of ID Software's popular DOOM! 3-D shooter game
(Not supported by ID Software)
Instructions:

Original Port:
Unpack, build, and then go to the directory containing your DOOM! wad file and run the built executable "sdldoom"
LxDoom Port:
Unpack, build, copy data/boomlump.wad along with your original DOOM! wad file to the ~/.lxdoom/ directory, and then run the built executable "lsdldoom".
If you want music, make sure you install the timidity patch files in /usr/local/lib (on UNIX)